Branding Identity
The Best Stock Image Websites for Your Business
Photography is a big part of design. Due to this, it can be costly to get the best imagery your business needs. Whether you're using a photographer or surfing the web for stock photos, it can be a struggle. That's why we have put together this ultimate list of the best stock image websites for your next campaign.
We all know why we need beautiful images. We need them because they are easy on the eye, provide breaks from the text in blogs and can help in reinforcing your company values,  themes, branding. But above all else, they are essential in helping to achieve company goals through their place in the Customer Value Journey. Still, these are just some of the hundreds of reasons that great images are a necessity.
But how do you get the best images and photos? Hiring a photographer is one great way because they can give you great confidence in your creative output. Meaning that you're going to get exactly the shot that you need, while gaining the professional guidance that a photographer brings.
Sure, when you have a photographer on your books, you will get your money's worth. However, often what they're worth, is a lot of money. Although their professionalism, skill, creativity, style and ability may be excellent, they can cost a pretty penny for new businesses. Meanwhile, for a new business, you may need to spend money on other, more immediate avenues… despite the importance of photography.
So when you have these other areas in which your money can be better spent, you're still going to need imagery. Short of asking a friend-of-a-friend for a "freebie", you still have options. Primarily, these options lay in stock images.
One option is to pay for quality content via Adobe Stock, iStock or Shutterstock. Here, you can gain access to thousands of excellent images from just as many photographers. They're high-resolution and high-quality, but you do need to pay.
But why pay when there are free options? So here they are, the six best stock image websites for your business to use.
Undoubtedly one of the most popular free stock image websites due to its search functionality is Unsplash. Unsplash features a high number of high-resolution photos in a variety of themes and categories.
Featuring images of cityscapes, food, textures, business, film, animals and more, there's a lot of variety. Unsplash is popular for both professional and semi-professional photographers, so you're sure to have your pick of the best.
For those who need images on the go, Unsplash also has an iOS app. Whenever you're searching for that perfect image, check them out.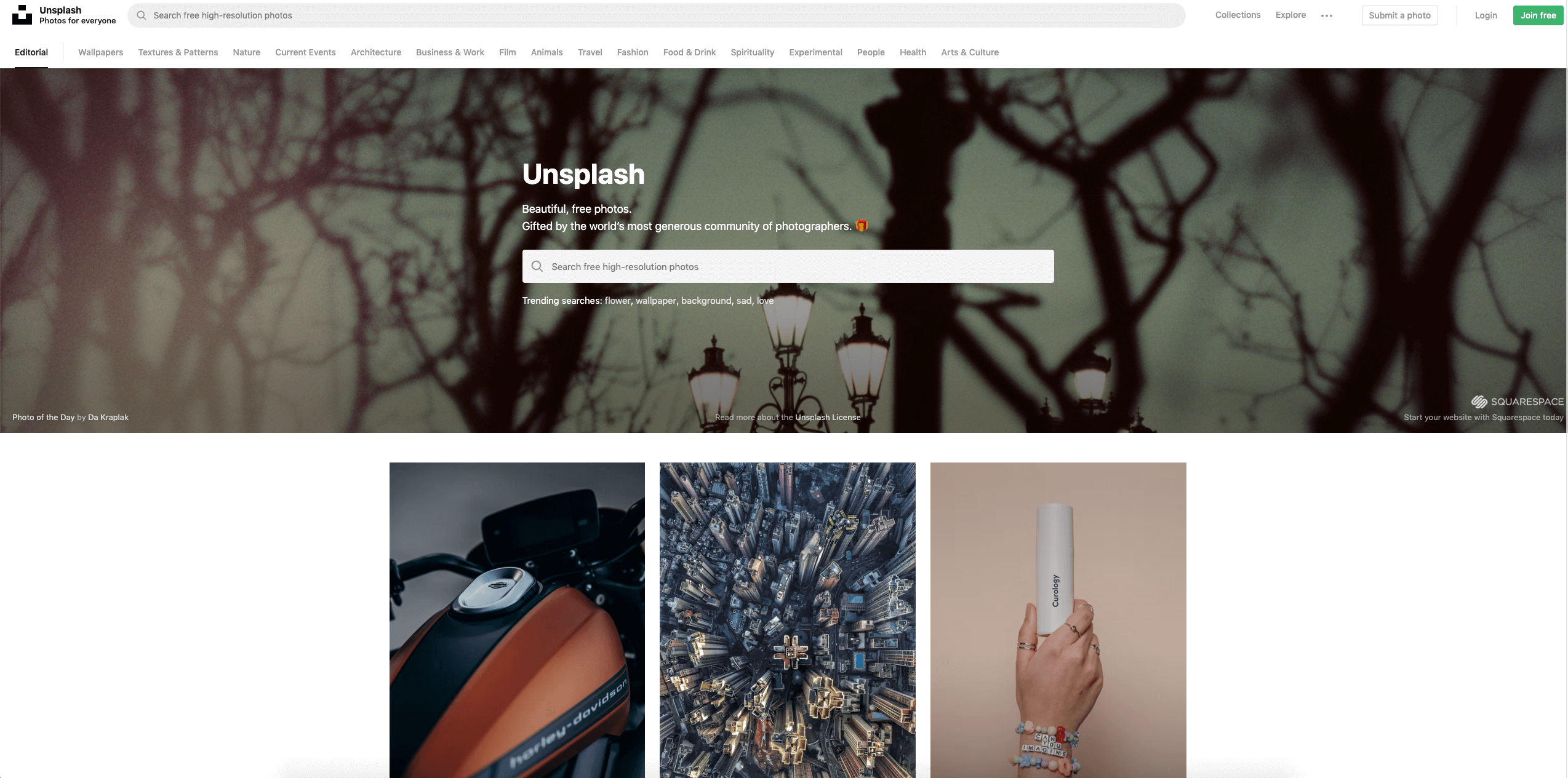 Pexels is another one of the more popular stock image websites, globally. They provide high-quality and completely free stock photos.
Often featuring some fairly generic imagery, accompanied by some more unique and obscure for time-to-time, they provide a well-rounded choice. All of their images are tagged for searchability and very easy to discover through their discover pages. Featuring thousands of photographers, Pexels is a great source of content for any entrepreneur.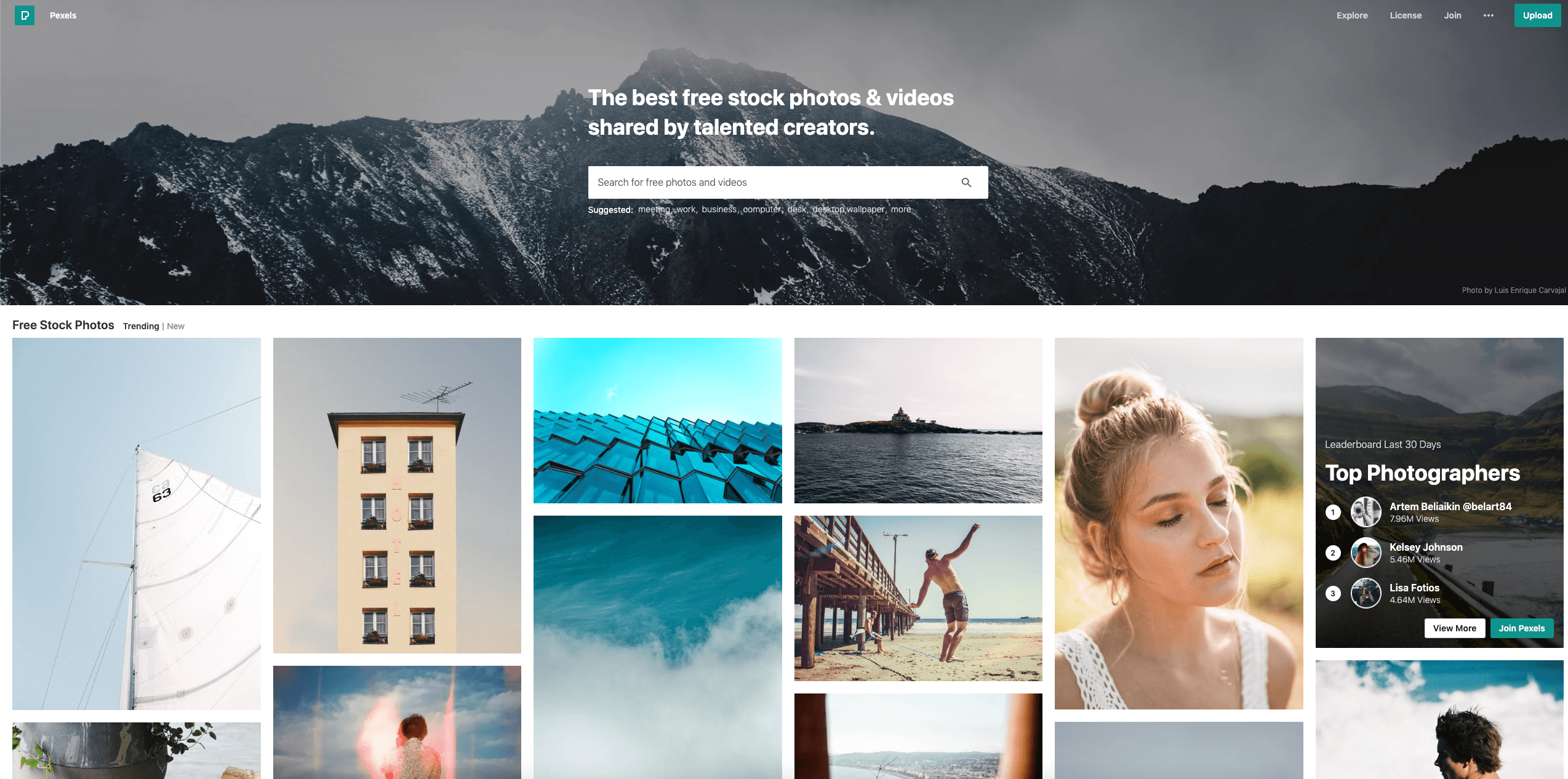 (READ: A Note from Caffeinate's Lead Designer: Consistent Design Always Wins) 
Another classic stock image website that feels like its been around forever… at least for us who've used a lot of stock images, is Pixabay. Pixabay is known for their love stunning photos of every creed and colour.
They've got the lot, from colourful and diverse, to vast and imposing, with everything else in-between. That means that they feature what you're needing if you looking for a photo that doesn't push the envelope in terms of craziness.
They do their thing and they do it well. And that thing is beautiful and widely accepted images. This means that their quirky-factor perhaps isn't as high as other stock image websites. Still, if you're looking for landscapes, animals, plants, vast planes, cities and food, look no further.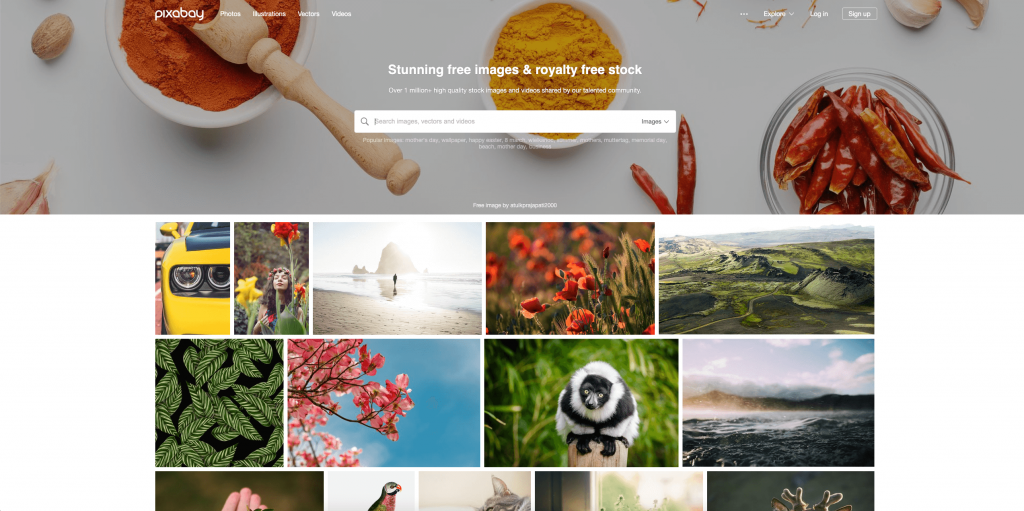 A resource from Shopify, Burst provides free stock photos for marketers and entrepreneurs. Ultimately, Burst was created to ensure that business owners had the images needed to run their campaigns and websites, cheaply.
A large majority of images are original photos that were taken in-house. Often themed around trending business niches, but also feature more general photography. This ensures that you're sure to find the image that you're so desperately after.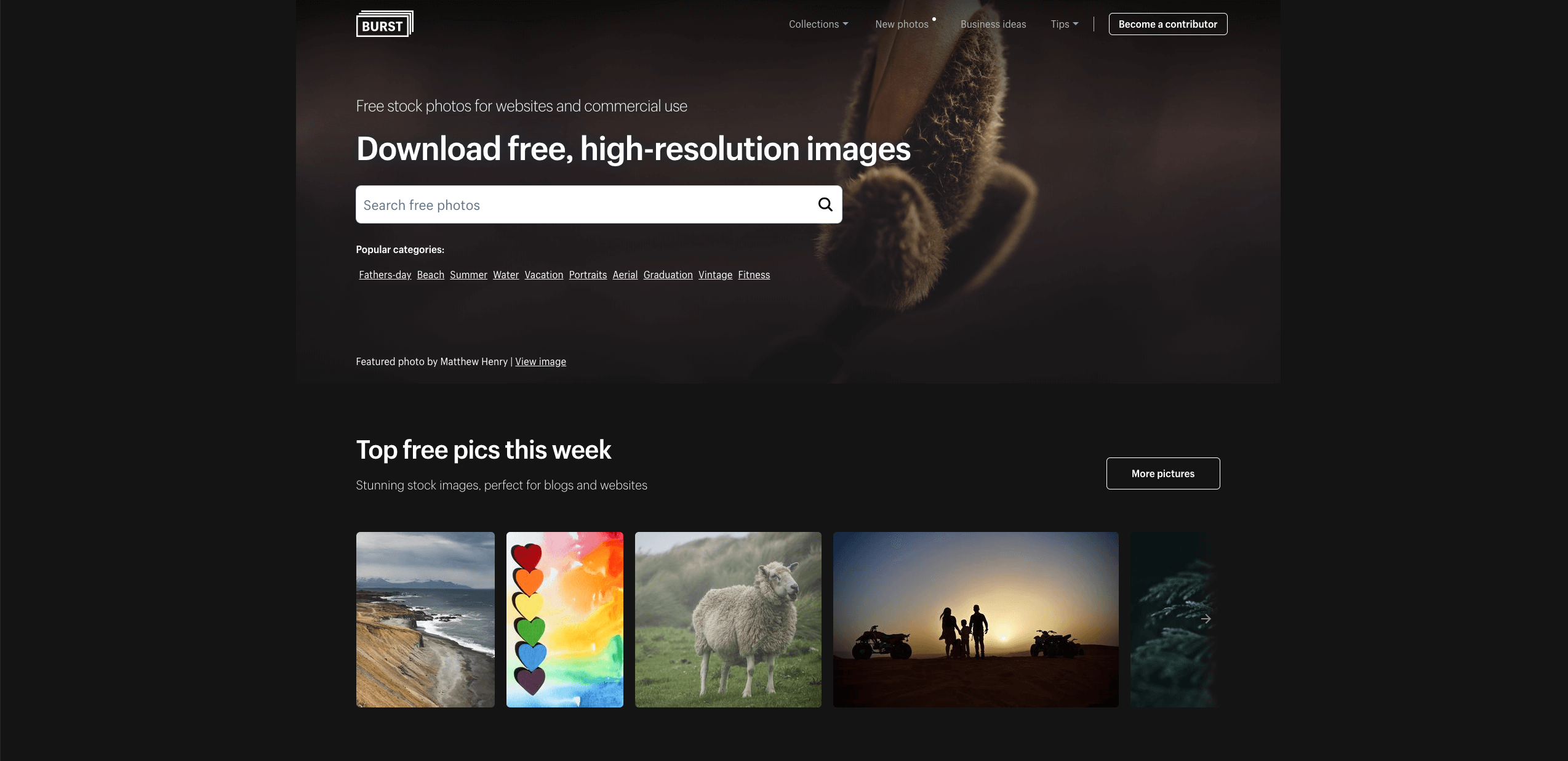 A stock image website featuring abstract, city/architecture, fashion, food, landscapes and more, Kaboom Pics is an excellent resource. As the photos can be used for commercial use, they provide a wide variety of options for the modern marketer and entrepreneur.
Kaboom Pics ensures that you've got a picture for your colour palette. And with over 12,000,000 image downloads and counting, you can be sure that you'll find what you need. In addition, there are always new high-res, high-quality images being uploaded daily, from all over the world.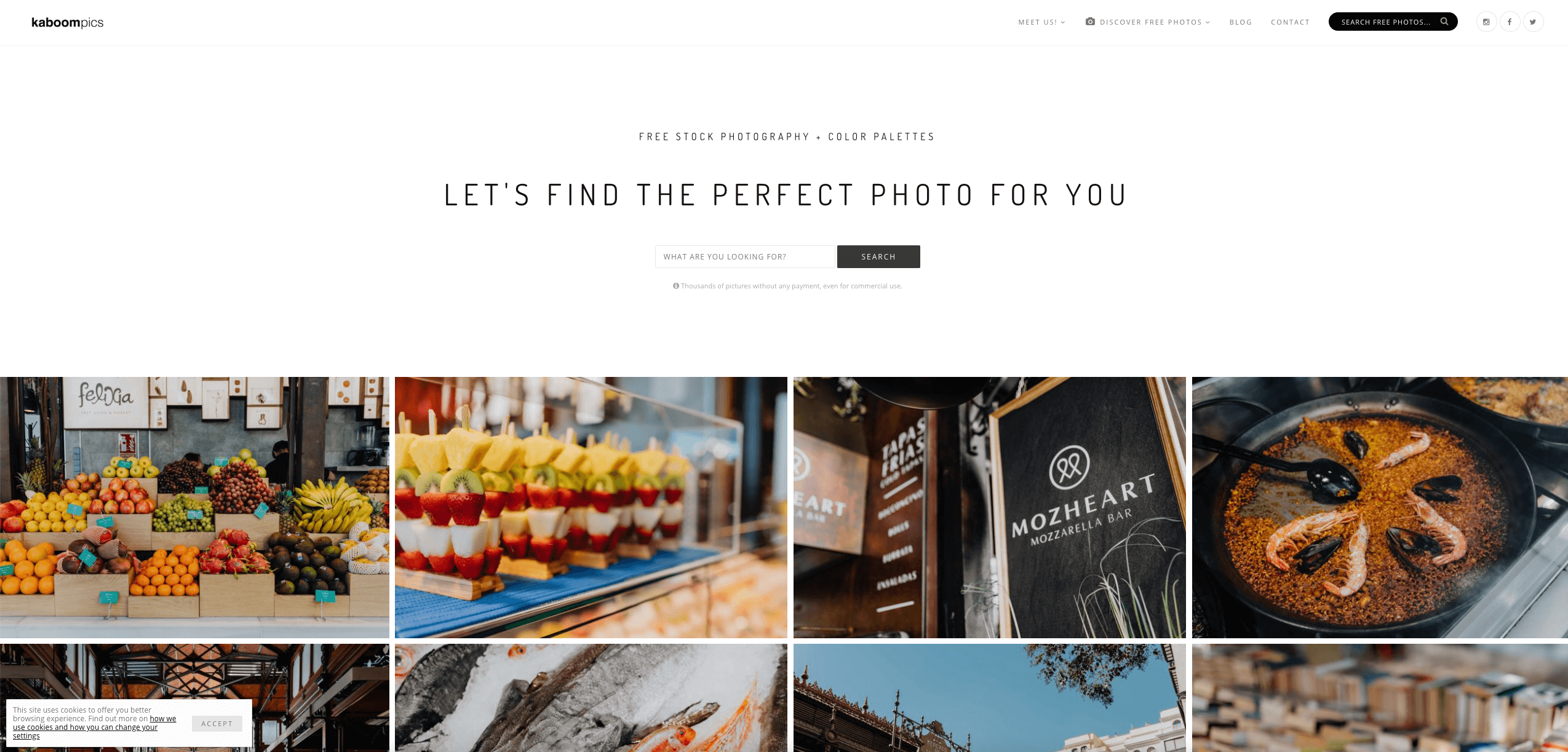 With the motif of being your most quirky, weird and creative stock image website, they fail to disappoint. As they put in their 'About' page, "stock photos are a dime a dozen, but you're looking for something different. Something quirky, beautiful and arresting".
The Gratisography stock images are surely one of a kind. However, they're also high quality. Although different is what they do best, they're right up there competing with the other stock photo websites through their high-res imagery.
If you're looking for something a bit different, or feel like you're churning through the same images or type of images all the time on other sites… give Gratisography a go.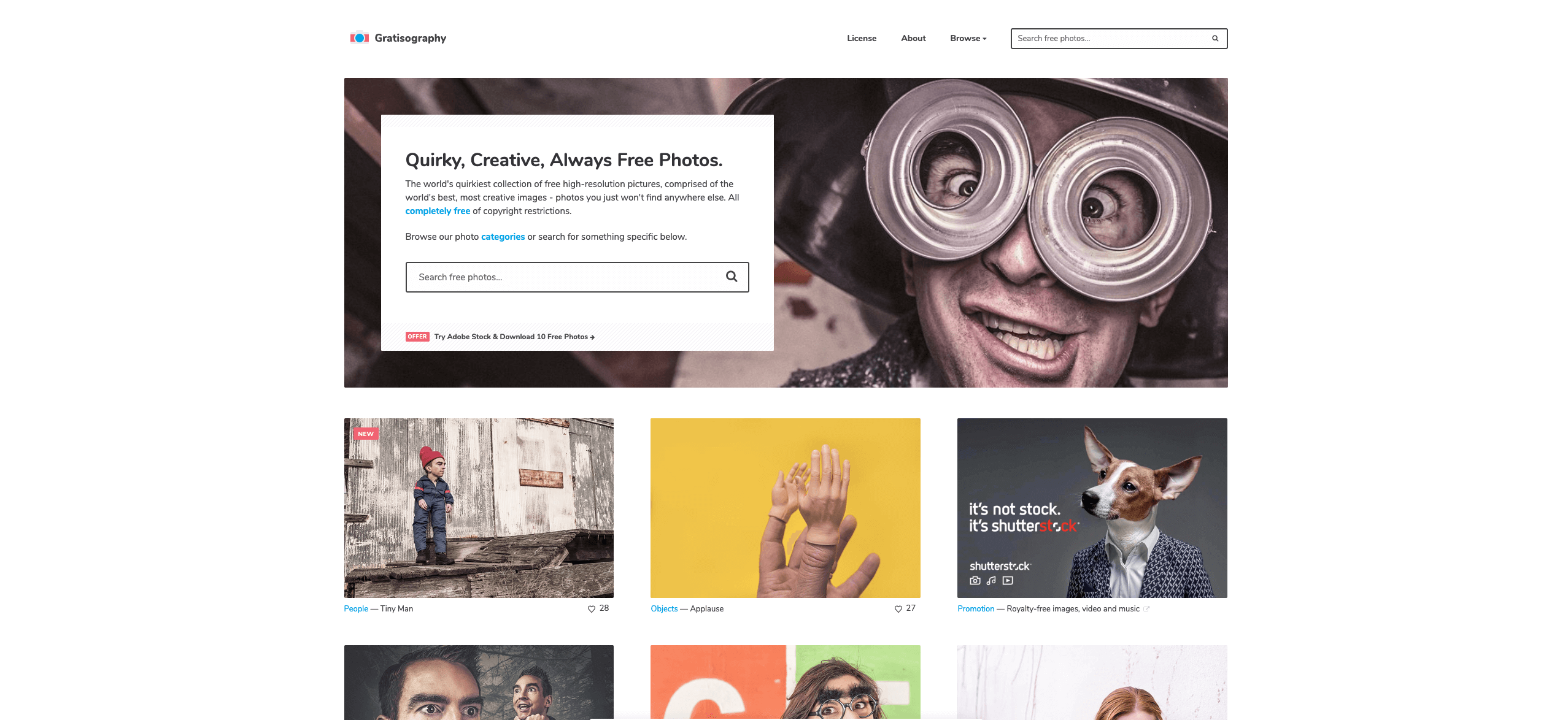 NegativeSpace is a fantastic stock image website for businesses looking for royalty-free stock images. Like many others, they feature a library with a wide range of high-res imagery.
Conveniently broken down into categories from the homepage, NegativeSpace streamlines a lot of the process that business owners would go through to find quality imagery.
Much of their content can be considered quite arty, however, they are not limited to this. Featuring fashion, design and abstract, art and architecture, this is juxtaposed by more standard image ranges such as tech, office spaces and food.
All stock images are shot by professional photographers and have allowed for unrestricted use for the NegativeSpace community.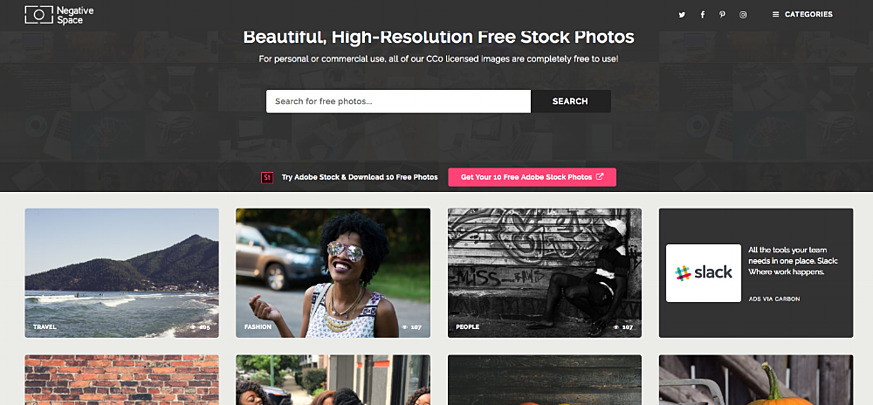 It is possible to look at PicJumbo as just another standard stock image website. In this regard, you may be correct, however, this doesn't mean it is not useful as another stream of imagery.
As PicJumbo provides their service absolutely free, there is no doubting it's usefulness. If you're in need of high-res photos for both commercial or non-commercial use, this is an excellent platform to use.
The platform is great because it provides an alternative to the other stock image websites out there. It is not unheard of to come across the same image on multiple stock image websites, but so far, this hasn't been the case here at Caffeinate Digital. Their steady stream of images being added daily, with a wide range to choose from.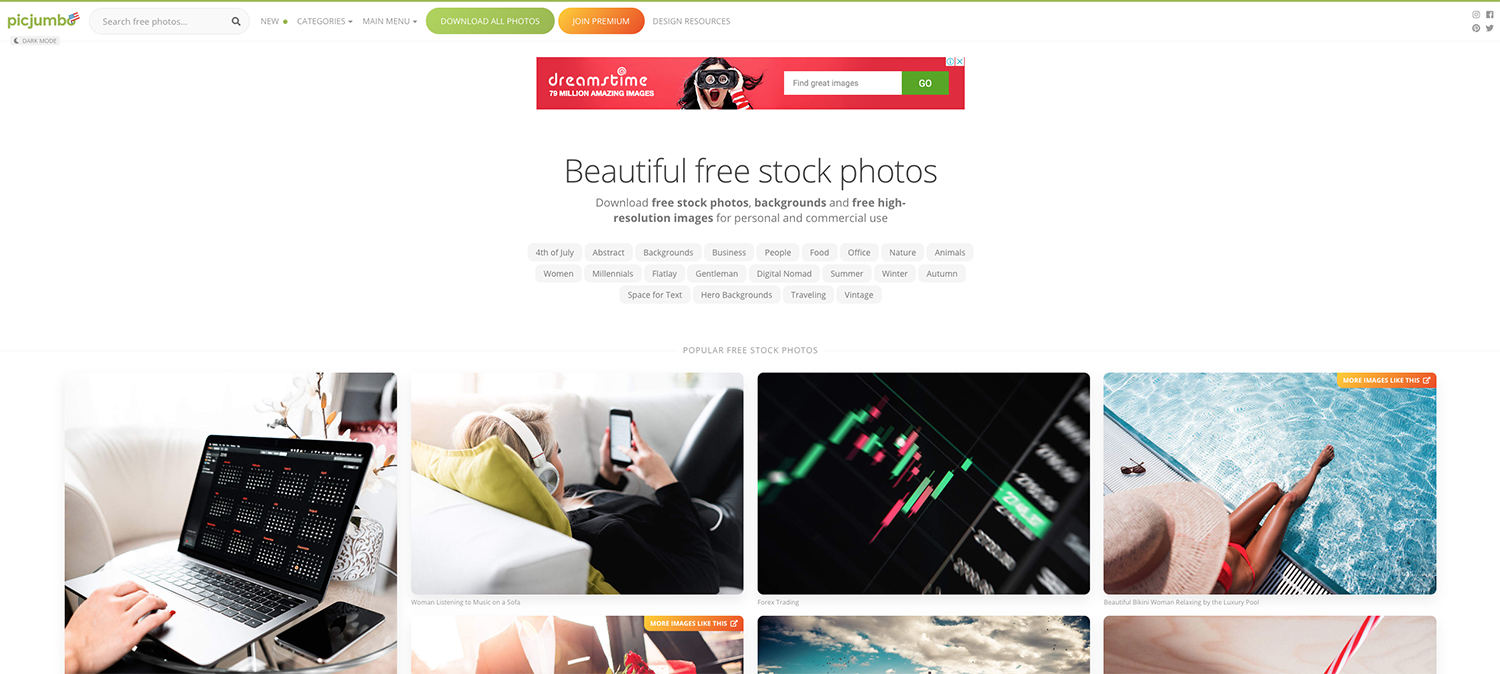 Now owned by Adobe Stock, Fotolia offer more that one hundred million stock images. All high-res and from a range of creative disciplines including illustration, photography, vectors and video, this free service is an excellent alternative for any business owner.
Often agencies even use this service to upload their creative work for you to use. Their library of imagery is so immense that many describe it as a photographers dream!
Plus, when you sign up for Fotolia, you can receive 10 free Adobe Stock images.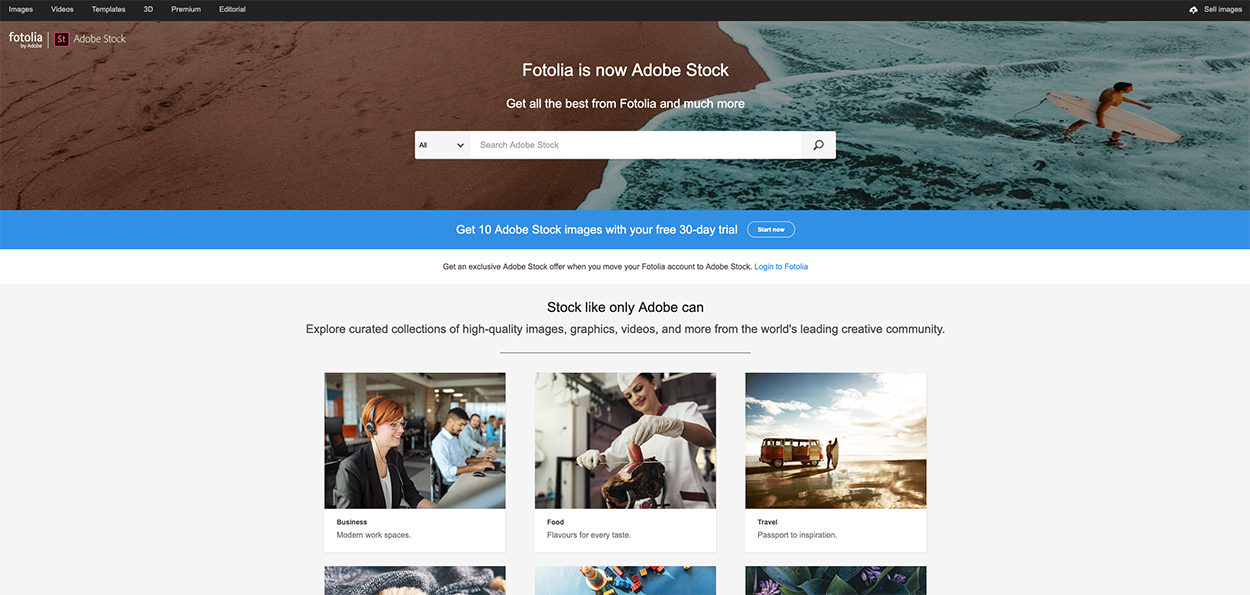 Beautiful images on what can be described as an underused stock image website are the only way to describe StockSnap. Here, they offer high-res, free stock images that can be used for commercial use or personal use.
The search feature on the site is easy to use and navigate, with their labelling system making it even simpler to browse by category. StockSnap has hundreds of images added to the already large database, daily meaning that you'll enjoy high-quality images, without the feeling of "running out".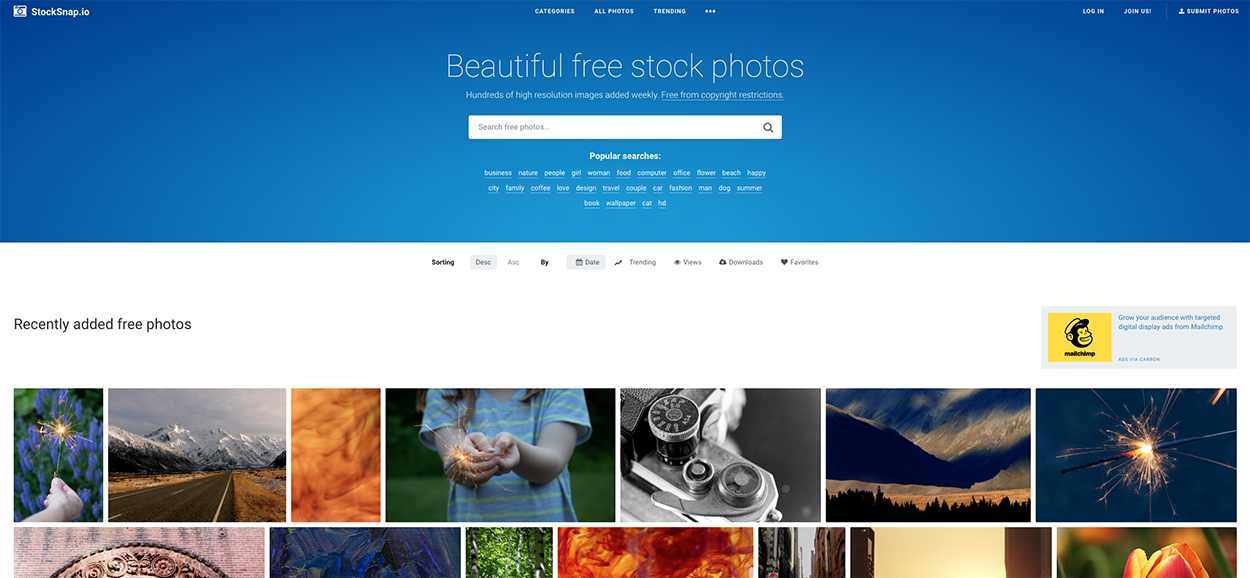 In summary
Imagery and photography are a key component for businesses, particularly in the digital sphere. They reinforce your themes and identity while capturing your target market. So without excellent images, you're already behind the eight ball.
But you do have options. You can either pay for a photographer or get stock images. So if you're going to use stock images, why pay? There is a multitude of excellent free stock image websites out there featuring a variety of themes, attitudes and dispositions, that your audience will absolutely love.
No more need for those cheesy, overused stock photos in your campaigns. Just check out any of the best stock image websites, above!
We want to hear from you! Follow us on LinkedIn, Facebook and Instagram to keep up with us, get our notifications and start a conversation! 
Get the latest and greatest.
Direct to your inbox.
No spam. Only the good stuff.